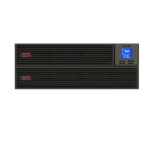 Description
คุณสมบัติเฉพาะ
Brochure
Reviews (0)
Description
APC Easy UPS On-Line SRV RM 6000 VA 230V (SRV6KRIRK)
APC Easy UPS On-Line SRV RM 6000 VA 230V (SRV6KRIRK)
APC Easy UPS On-Line SRV RM 6000 VA 230V with Rail Kit
Output
Output power capacity : 6.0kWatts / 6.0kVA
Max Configurable Power (Watts) : 6.0kWatts / 6.0kVA
Nominal Output Voltage : 230V
Output Frequency (sync to mains) : 50/60Hz +/- 3 Hz
Other Output Voltages : 220, 240
Load Crest Factor : 3 : 1
Topology : Double Conversion Online
Waveform type : Sine wave
Input
Nominal Input Voltage : 230V
Input frequency : 40 – 70 Hz
Input Connections : Hard Wire 3-wire
Other Input Voltages : 220, 240
Batteries & Runtime
Communications & Management
Control panel : Multi-function LCD status and control console
Surge Protection and Filtering
Surge energy rating : 600Joules
Physical
Maximum Height : 173MM, 17.3CM
Maximum Width : 438MM, 43.8CM
Maximum Depth : 710MM, 71.0CM
Net Weight : 61.0KG
Environmental
Operating Temperature : 0 – 40 °C
Operating Relative Humidity : 0 – 95 %
Operating Elevation : 0-3000meters
Storage Relative Humidity : 0 – 95 %
Storage Elevation : 0-14763.6meters
Sustainable Offer Status
RoHS : Compliant
REACH : Contains SVHCs
Serviceability
Predictive failure notification. : Provides early-warning fault analysis ensuring proactive component replacement.
Disconnected battery notification : Warns when a battery is not available to provide backup power.
Audible alarms : Provides notification of changing utility power and UPS power conditions
Automatic self-test : Periodic battery self-test ensures early detection of a battery that needs to be replaced.
Manageability
Serial connectivity : Provides management of the UPS via a serial port.
LED Indicators : Provide easy-to-read status of the unit and utility power conditions.
Network manageable : Provides remote power management of the UPS over the network.
SmartSlot : Customize UPS capabilities with management cards.
LCD graphics display : Text and mimic diagrams that display modes of operation, system parameters and alarms.
Additional information
Product Type
Brand
UPS Spec
| | |
| --- | --- |
| UPS Topology | |
| UPS Application | |
| UPS VA | |
| UPS Watts | |
| UPS Form Factor | Rack 2U |
| UPS Full Load Backup Time | 4 min |
| UPS Half Load Backup Time | 12 min |
| UPS External Battery | ไม่รองรับการต่อ Battery |
| UPS Max Battery Pack | ต่อเพิ่มไม่ได้ |
| UPS Rail Kit | N/A |
| UPS Network Card Support | Not Support |
| UPS Input Voltage | 1PH 230V |
| UPS Output Voltage | 1PH 230V |
| UPS Control Panel | LCD Display |
| UPS Warranty | 2 Years onsite |
| UPS Startup Service | No |
More